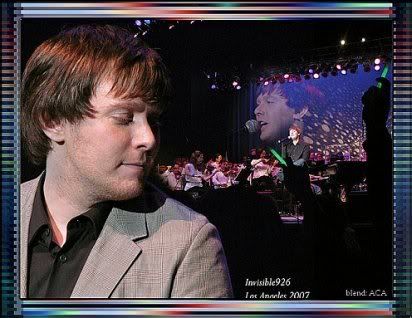 CALIFORNIA MEMORIES -- Clay Aiken fans have already begun a
weekend rewind of the popular CA 4-fer of the 2007 Summer Tour.
Graphic by Amazing_CA, photos by Invisible926.
Popular 'CA 4-fer' Remembered
West Yields Special Moments
Like most fans, I vicariously experienced the "California 4-fer" of Clay Aiken's 2007 Summer Tour through the impressions of those attending the San Diego, Pala, Los Angeles, and Indio concerts a year ago this weekend.

A cellstream connection helps transport listeners to the concert venues, and the remarkable clack that fan videographers and photographers upload shortly afterwards keep past performances on replay for months, even years. In fact, visit any CA message board this weekend and it's all about "California Memories."

In recap after recap, Clay fans relayed the events from the West Coast's weekend adventure Aug. 2-5, 2007. This blog takes a look back at the San Diego and Pala concerts. The next edition will focus on the Los Angeles Greek and Indio shows.

Both include stories that didn't make print media reviews but which hold special meaning for the CA fandom. Hold onto you hat ... here we go!
Pala Cellist Becomes Claymate

Attending her second CA concert ever, Luvmysalsie reported a discussion she had with a cellist following the Palomar Starlight Theatre (Pala) performance:
You know that look Clay fans have after seeing him live -- bright eyed, animated, joy written all over our faces. That is the look the cellist had, plus she was talking a mile a minute, just like we fans do.

She said that Clay really has the "chops," meaning his voice is incredible; but what really makes him special is the magical interaction with the audience. He had us eating right out of his hand, and that is what makes him a great entertainer.

Anyone can sing, but not everyone can have that relationship with an audience. She said it felt great to hear the applause because most of the time, they don't even know if their audiences are awake. The orchestra really seemed to enjoy Clay, as they were laughing right along with all his jokes; and he was in rare form tonight.

I asked the cellist if she was a Clayvert? Of course, she didn't know what this meant. I explained to her after seeing Clay in person that most people fall in love with him.

She said, "Oh yes! I'm going to go out and buy his CD's and bring my children to his concerts." Her children had asked her to get Clay's autograph, but he was surrounded by people backstage and she couldn't get close enough.
According to my friend

Sally

, who attended the weekend's third event at The Greek, the Pala cellist followed through. She purchased tickets and attended her first event as a member of the Clay Nation!

View a CA 4-fer Slide Show by clicking on the picture below or the link provided. At the site, you can opt for an "original" or "gallery" view.

Photographers represented are

Invisible926

,

Toni7babe

,

Lindylo

,

FiveGoldens

,

Riversend22

,

Mad4Clay

, and

SmartyPantsSuz

.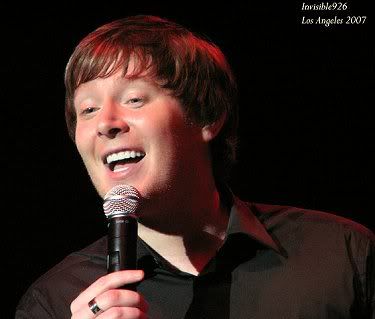 Photo by Invisible926 links to CA4fer slide show.
Fans Greet Countless Newbies

Lovethatguy: At Pala, Gareem and I met two girls who had won tickets to the show from the local radio station -- one of those "we loved him on AI but had no idea what he has done since."

One of them noticed my CV badge; so, of course, we launched into the whole explanation of Clayversity, the Internet, Clay Nation, etc. By the time we said goodbye, Gareem had her e-mail address like a good little Claymate. And they were very pumped up by all we told them. I am positive they had a great time.

A newbie couple sat next to us at Pala, too. They loved the concert! After hearing that Clay was playing at The Greek and Indio next, they said they were going to get tickets to those concerts also.
Pitch-Perfect Vox with Wide Range

Ymarie: In San Diego I sat in front of a middle-aged man attending by himself. At intermission he told me he had a master's degree in voice and listened to singers with a very critical ear.

He said Clay has improved so much over the last four years and that he has one of the most pitch-perfect voices he's ever heard. Clay is a natural baritone with a fabulous falsetto range, he said, and it takes a lot of testosterone to sing in the upper head range. It's harder on the voice, but everybody wants to hear those high notes.

He took some grief from his daughter about going to a Clay Aiken concert, but it didn't bother him at all. He likes Clay and also Michael Buble. He was impressed with Clay's charitable works and his down-to-earth personality.

PHOTO INTERLUDE: Featured are three clickable graphics by Amazing_CA (1, 3, 5) and pictures from Pala/San Diego concerts. Photograpers include Invisible926, 1; Riversend, 2; FiveGoldens, 3, 4; and Toni7babe, 5.


Some Consider Pala Best Show Ever
During quiet stretches like Clay's respite this summer, Internet fans often make lists -- "Clayisms" (as reported in the July 17 Carolina blog), favorites from the singer's songs, concerts, photos, videos, etc. Hands down, Pala usually wins the title of "best concert ever."

Here is more about that phenomenal evening:

PermaSwooned: The line to get to the Pala concert area, even with three doors open, stretched all the way across the lobby, restaurant, shop areas, and almost the whole width of the casino.

There was a guy behind me that kept shaking his head in disbelief. He said he was from the area and had attended every single show they ever had at Pala. He kept saying he had never seen anything even close to that kind of crowd before. He said his host had told him that the casino had to pull in extra staff to handle the size of the crowd and a lot of the guest services areas were completely overwhelmed.

I saw this same guy after the concert. He just LOVED it! Previously, he really didn't have much of an idea who Clay was, but he raved about what an all-around entertainer he is -- great voice, hilarious banter, terrific interaction with Quiana, Angela, and the audience.

He said it was by far the best show he had ever seen there, and he was going to make sure the casino management knows how great it was and to make sure Clay comes back.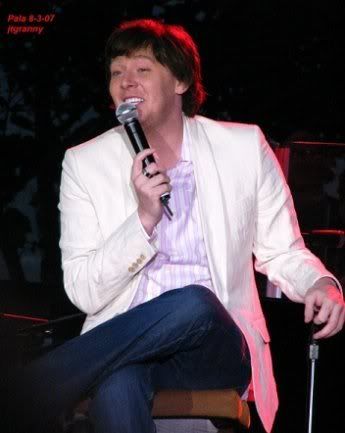 Jtgranny's photo links to Flat Clay video.
Flat Clay's Cameo Appearance
Anyone who has viewed clack from the Pala concert knows about Flat Clay, a life-size cardboard version of the singer with a five-year itinerary that has included countless concert pre-parties and other appearances.

Posted at YouTube by ClayKitty01, Clay & Co. sing When I See You Smile to the cardboard character in the window.

Artquest, keeper of Flat Clay, explained in her recap that cardboard Clay is always along for the ride. As she told Clay when quizzed from the stage, they just fold him in half and hit the road.

Due to back problems, Artquest's husband returned to their room during intermission. "The next thing we knew, Flat Clay was dancing in the window. The audience howled, and he danced some more."

Saltwaterdog: At Pala, two couples directly in front of my husband and me were newbies. One couple had seen an AI 2 show, but this was their first Clay Aiken concert. They all were interested and enjoying themselves from the beginning of the show; but when Clay spotted the "Flat Clay" cardboard cutout in an upper hotel window, they were hooked.

During "When I See You Smile" Clay sang to the image as if it were his true love. Quiana and Angela added similar theatrical gestures. At that point, the folks in front of us joined in the fun as if they were longtime Claymates.

They laughed at Clay's jokes and snuggled during the sweet songs. One of the men even kept a close eye out on Flat Clay all evening.

Japanese Fans Meet 'Celebrities'

During the San Diego banter, Clay welcomed contingents of international fans from Japan and New Zealand. Seated near the back, the Japanese fans were dressed in yukatas or summer kimonos. Earlier they had met the singer's mother, Faye Parker, at pre-concert festivities.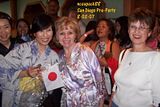 Japanese fans meet Faye Parker
Photo by NCSUPack88
According to Clayrin, an OFC blogger from Japan, the group attended the Aug. 2 - 4 concerts in California, as well as those in Clay's home state of North Carolina, Cary and Asheville. Their story was chronicled on The New Clay Aiken, a Japanese fan club site.
Comrades Half a World Away
Like other fans who connect from afar, the Japanese group had become very well acquainted with downloads at Clack Unlimited. At the San Diego concert they also met a videographer special to Claymates everywhere. In a post at the Clack House, Spotlightlover described her chance meeting with the international fans.
As we were preparing to leave the venue, I noticed that 20 or so Japanese ladies had gathered at the front of the stage in their kimonos. They had taken the set lists from the stage and were "oohing" and "ahing" over them.

I took a little footage of them and then asked if anyone spoke English. A couple of tentative nods; then the woman who was serving as translator introduced herself.

I told her I had a big souvenir of the entire concert, and there were a few gasps. We exchanged cards and I said I would be in touch. Then I talked a little more with a few of the women who spoke English. I asked if they were on the Internet.

One of them replied, "Clack Unlimited?" So I told them my board name. And the eyes of these wonderful women from a far country widened with recognition because they knew who I was.
For me, meeting these women was the most magical moment of the night. No, not because they knew who I was, but because across the vast Pacific Ocean, culture differences, and a language barrier, we have all become a part of this awesome phenomenon. Not even knowing it, I had shared something with them; and that made us comrades from half a world away.

I think now, for me, that's what this is really all about. It's no longer just about a skinny kid from North Carolina with an incredible voice who got the chance of a lifetime.

It's how his effect on us has brought us together into a big family, and every concert is like a family reunion.
Below is a clickable of

Amazing_CA

's opening graphic: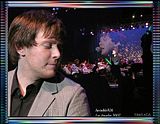 Have an awesome weekend remembering the California 4-fer, Clay Nation!

Caro

P.S. For her August 2008 calendar, Cindilu2 revisited the summer of Jukebox Clay with photos by KarenEh. Widescreen versions with/without dates are available at the graphic artist's Yuku web page.
Thnx for putting the Carolina blog on your itinerary. Your visits
and comments are very much appreciated.
RELATED TAGS: Clay Aiken, On My Way Here, 2007 Summer Tour, CA 4-fer, San Diego, Pala, Flat Clay, Clayvert, Claymate, Japanese fans, Faye Parker, Spotlightlover, Official Fan Club, Clay Nation